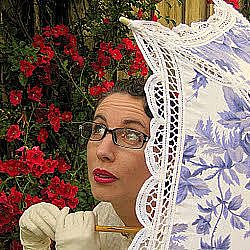 Special Feature: Interview with Gail Carriger
by Lesley L. Smith
Gail Carriger is considered by many to be the queen of Steampunk. The Parasol Protectorate series begins with Soulless and has been turned into a graphic novel and optioned for TV. Her young adult Finishing School series begins with Etiquette & Espionage and follows the exploits of Sophronia, a young woman who discovers her dreaded lady's seminary is a great deal more deadly than expected. In the Custard Protocol series, beginning with Prudence, Rue and her crack (or possibly cracked) dirigible crew get into trouble around the Empire on behalf of queen, country, and tea. Gail also has a full cast audio production of her YA sci-fi Crudrat.
Her next novel is Manners & Mutiny from the Finishing School series, out in November 2015.
Steampunk is a relatively new genre, utilizing many aspects of urban fantasy. Some scholars say literary fantasy was created as a reaction against the rationalism of the scientific method/industrial revolution. Do you think this is consistent with steampunk?
I do think steampunk can be very prescient in an old fashioned way in that it reflects our modern day struggles with technology. These days we see technology as both the curse of our existence (hello, Terminator) but also our most likely savior (hello, Star Trek). During the industrial revolution, the Victorians were just beginning to grapple with this exact question: is technological progress our savoir or our curse? As to a general approach among steampunk authors, I can only speak for myself. There are as many different interpretations of steampunk these days as there are authors writing it. For me, steampunk is a way of exploring the industrial revolution with all it's newborn fears and wonders; a time in our history when we reinterpreted both doom and salvation. I'm deeply intrigued by works like Dr. Jekyll and Mr. Hyde, which represented a switch from fear of religious monsters like devils and daemons (and moral corruption like that in The Monk ) to the demonization of science and the fantastical monsters it could produce. However, if you look at some of my books you'll realize that I myself am not entirely supportive of this demonization. It is not the science itself that is at fault, but a lack of ethical grounding in its practitioners. My real fear, and the thing my characters are always battling in society, is obsession.
Author Nicole Peeler told Electric Spec back in 2011 that urban fantasy often has a hedonistic aspect to it. Does your work have a hedonistic quality?
The act of writing it, or within the content of the book itself? I think most authors are masochistic to some extent, and I wouldn't write it if I didn't want to, so that must make me some kinky form of hedonist. My characters are certainly hedonistic. They indulge in many things, mostly food and occasionally something sex-related.
I've also heard it said that all fiction can be considered fantasy. What do you think?
I think there are some literary types out there who might take grave offense and my Scottish werewolves and I would rather stay off their very tetchy radar.
I enjoy the unique twists of the technology in this world. What are the aether currents?
Rather like a combination of the jet stream and ocean currents only in the aetherosphere (above the visible atmosphere) and layered one upon the other going all sorts of directions.
Your world is quite open-minded in terms of sexual orientation. Could this world have modern practices such as same-sex marriage and/or trans-gender people?
How do you know it doesn't already?
All three of your series, the Parasol Protectorate, Finishing School, and the Custard Protocol are lovely. What does Prudence of Custard Protocol fame get up to next?
Thank you! In Imprudence, we are going back to Egypt, only this time it's Cairo and the deep desert. There's a major family crisis that finally comes to a head (or should I say a tail?) plus a serious matter of academic ego that puts everyone on board the Spotted Custard in jeopardy.
You're great at marketing your author brand. Have you ever considered being involved in selling steampunk clothing or accessories? (I think there's a market for it!)
I've partnered, on occasion, with Clockwork Couture, a wonderful online shop. I've also considered some things. But merchandising is a complicated business when movie options are involved.
Do you have any non-steampunk literature in the works now or in the future?
I've written a science fiction YA called Crudrat (http://crudrat.com/ ). With the help of a friend, we ran a kickstarter to turn it into a full audio production. It's a major departure from the universe of the Parasol Protectorate. You can buy the mp3 but as Crudrat is the first of two books, and I've no time right now to write the second, I have no plans to release the first book to the general public in print form. I don't like making promises I can't keep, and an unfinished series with not even a rough of the second book just isn't nice to readers. Someday, however, I do want to finish it and put both out there.
Do you have any advice for aspiring writers?
Don't quit your day job. And if you do, make sure that you have at least six-months worth of living expenses put aside. I find the most important thing is to write the story, edit it, send it out, and move on. So many writers are perfectionists who keep writing the first part over and over again.
Is there anything else you'd like to tell us?
Canoodle is an excellent and underused word. I recommend both writing with it and living it as often as possible.
Thanks, Gail! This was fun!
You can follow Gail on Facebook https://www.facebook.com/gailcarriger & Twitter https://twitter.com/#%21/gailcarriger . Her writing blog is on Blogspot http://gailcarriger.blogspot.com// & Livejournal http://gailcarriger.livejournal.com/ and shadows to her Website http://www.gailcarriger.com/ . Or you can join her mailing list http://www.gailcarriger.com/contact .She also has a fashion blog ~ Retro Rack http://retrorack.blogspot.com/ . The best place to talk all things Parasol Protectorate is on its Facebook Group https://www.facebook.com/home.php?sk=group_219404904739279 http://www.gailcarriger.com